bsquirrel


Member Rara Avis
since 01-03-2000
Posts 8382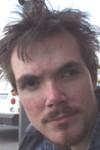 | | |
| --- | --- |
| 0 posted 06-08-2000 12:42 AM | |
---
-scaled velvet-
She told me to smile more, pray often,
Kneel in the water and live.
I knelt down and looked at myself,
Separated lips from teeth.
She told me to keep my eyes closed,
Follow the act, but never ever to lie.
I prayed that night holding the clock
That if god weren't dead he'd tried.
Do sixteen dead apples, pits and cores
Equal seventy-five nights of loving a whore?
Do kisses always leave thorns or a firstborn
When shackled clothes hit the floor?
Did those sins and scrapes and rings through your tongue
Leave your face with that cold open sore?
Do one million heartbeats and seven trillion breaths
Leave you any less dead at the door?

No.
No, she said.