bsquirrel


Member Rara Avis
since 01-03-2000
Posts 8382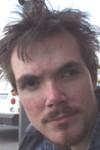 ---
I pray every night for fog to surround me
In fingers of low-lying cloud.
They could peel apart my worries, show them to me
For the waterwornout crutches they are.
I could shake hands with rain, smile
At the peeks of helpful things I found;
All the rest would be smothered to the ground.

Another day at work forgetting why I was born.
Listening to suggestions that nothing is worth waking for.
Phone mothers giving dysfunction to their Starbucks sons.

Currently, they laugh in the broken staccato of being bitter.
Their voices like so many eggs thrown against the pavement
To burst -- the insides glow as they slide away --
Leaving a scaly crust layered for days.

Why can't they be hatched? I know fog might be too cool,
But why can't they be hatched by someone not taken?
No. We choose the easy way out, mistaken,
Staring at our shells in the mirror. Begging it to give us answers.
Saying to the glass, when we finally grow used to our reflections,
Thanks for liking my head.