jwesley
Member Ascendant
since 04-30-2000
Posts 6413
Texas . . .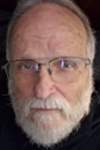 | | |
| --- | --- |
| 0 posted 06-07-2000 10:18 AM | |
---

I Used To Watch


I used to watch her
till the soil,
plant the seed,
then patiently wait
for her garden to grow.
I used to watch her
work so hard
to fix my dinner,
then wash the dishes,
and set her kitchen just so.
I used to watch her
brush her hair,
wash her face,
come to bed,
and then…
I used to hold her
in my arms,
and feel so warm
when she said,
"I love you, Jim."
I used to wake up
during the night,
and watch her as she slept.
"Oh God above,"
I'd often whisper,
"thank you for the day we met."
I used to believe
there wasn't a thing,
that together we couldn't transcend.
And I used to believe,
a love like ours,
would never come to an end.
I used to know
the world was warm,
and life a beautiful thing to behold.
I used to watch,
I used to hold,
I used to whisper,
believe,
and know…
Oh God,
I loved her so.

W. James Beard, Jr.