bsquirrel


Member Rara Avis
since 01-03-2000
Posts 8382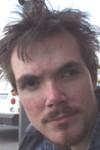 | | |
| --- | --- |
| 0 posted 06-07-2000 12:18 AM | |
---
who do i turn to?
who do i turn to in times of empty solace?
the light of my possessions is barely warm.
i need a furnace.
i need a glow to feed me,
not tokens and lint.

what do i turn to?
what do i turn to when i need the most help?
i'm letting go of my health -- in effect
dropping out.
i dropped so many lives i can't see the feeling
of kneeling in the moss and wetness, night sealing
my bones.
anymore.

i want to feel well.
but i'm lost and i don't want the light's glare
reminding me why i shouldn't stare too hard.
too many details swarming at me,
all big lines, old colors,
lost feelings given to ancient lust.

i'm sick of this.
why can't i break free of this?
what did i miss that won't let me resist making a fist in place of mist --
yes, gentle subtle mist covering slow growing leaves and needles,
caressing the bark and giving color to the dark.