bsquirrel


Member Rara Avis
since 01-03-2000
Posts 8382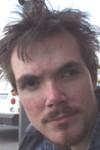 | | |
| --- | --- |
| 0 posted 06-04-2000 02:57 PM | |
---
You were the princess who always dreamed
A prince would scoop you against him
And drive away the rain that was wetting your soul.
You had all your toiletry items on a table,
Gleaming in the rain -- a brush with soaked bristles,
Paper that had bloated to twice its size, softened,
A mirror that reflected the drops on its surface.
Very occasionally, if you looked at the mirror just right,
Its gleaming, moving surface,
You could see your eyes sparked with dark knowledge.
You used to sing a grim song. Grim song for grim business,
You always said. It would only be a matter of time
Before you turned up dead,
You said.

Was it all in your head? I can't rightly say,
Nor can I wrongly guess.
The quest you wanted your prince to go on
Would tire even the most kind-hearted man.
You see, your castle was in a cloud,
And the castle was fallen.
The bridge was mere strings of wood,
The turrets collapsed into mounds of square stone.
There was no need for a moat --
The whole thing was a moat, gently sinking,
Waiting to fall through your dreams, into dirt.
I don't know how the cloud managed to take
Such abuse from you. It was always raining
Below that cloud.
Above it, too.

Occasional lightning, but nothing too frightening.
You never believed in evil, and neither did I.
But you never believed in good, either.
That's why you let yourself die.

As the sky falls each night,
The color sinking away with the sun,
I wonder about those clouds we cannot see.
Floating above us. Are they wild and free
Or as chained to broken dreams as you were?

I miss talking to you.
We'll never know fully what things we lost,
What things will never stir.