bsquirrel


Member Rara Avis
since 01-03-2000
Posts 8382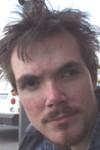 | | |
| --- | --- |
| 0 posted 06-01-2000 11:23 PM | |
---
Butterfly slippers, cold punch dippers,
The bees have eaten all the butter.
They flew in clotted cream,
Looked fuzzy like a dream
And crawled around in Super Uber's clutter.

Now S.U. was a girl
Who knew for sure the world
Was made of strawberry jam.

In fact she was known
For her tact every noon
In yelling out "It's all a scam!"

"Listen to me!
All you stupid hungry bees!
You left honey in my chowder!"

They didn't listen -- just buzzed,
Which put S.U. in a fuss
And made her yell all the louder.

"Now listen to me!" she began again,
Waving her hands like a frantic fan;
She was soon stung into submission.

As she looked at the holes
Caused by their rigamarole
She suddenly came up with a question.

"Why don't these stings hurt?
In fact, they feel like a flirt --
Harmless, a fun waste of time."

She then tasted the mud
And some other floor-crud.
Remember, she thought it was jam, not slime!

You see, in S.U.'s world,
All the world's girls
Besides herself were cruel beyond mention!

She learned about jam
One day when asking out Stan,
And a friend knocked her right over.

Got his name and number as S.U.
Lay on the ground.
Red, red floating like strawberry jam.

Ever since that day
Her fractured reality
Is all about her that's worth any mention.

She left the doors open wide
To let warmth and love inside.
The bees quickly came in and made their hives.

Now S.U. sits alone on the floor,
Looking out the big empty door,
But she's too happy to ever cry.

Butterfly slippers, upside-down dippers,
The bees are still eating all her food.
If you're looking for a moral,
Instead you're going to get a quarrel.
Make sense? I'm just not in the mood.