Aimster
Member Elite
since 02-19-2000
Posts 4367
Charlotte, NC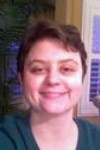 | | |
| --- | --- |
| 0 posted 05-31-2000 09:07 PM | |
---
~written by my best friend~

A Stranger That I See
Laura M. Wells


As I walk through the airport in Charlotte NC, the back of your head is the first thing I see
I do not recognize you at first
but then I hear your voice and my heart wants to burst
I cannot help myself, I stop and stare
wanting to be anywhere but right there.
you are on the phone, your eyes i can finally see.
our stares meet, you hang up and smile at me,
at this moment, I cannot move my body has turned into stone.
you advance toward me, I notice you are alone
you reach out to hug me, we shake hands instead, i'm sure at this moment crazy thoughts are going through my head
its been 2 years since i've seen you, you have not changed but i have and will never be the same
the love we once shared has been put to shame
we exchange greetings and salutations
i am wanting my best friend to be my salvation
she is not here but you are
you were once my shining star
you start speaking in the language that i love so much
but all i want to give you is one big sucker punch
you ask if i continued with french
i give you an answer but my gut wants to wrench
i have found a new love and i hope that you have too
i want you to know one thing and that is i do not hate you.
i'm not mad, not even a little sad
in fact, i'm glad that i saw you, i showed you that you didn't bring me down
No i no longer frown
you have chosen it this way and this is how it has to stay
we say au revoir and go our seperate ways, never to see each other again for months, years or days
you no longer mean anything to me
you are just a stranger that i see



<!signature-->


"Don't be dismayed at goodbyes. A farewell is before you can meet again. And meeting again after a moment or a lifetime is certain for those who are friends."