bsquirrel


Member Rara Avis
since 01-03-2000
Posts 8382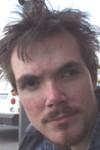 | | |
| --- | --- |
| 0 posted 05-29-2000 09:33 PM | |
---
The bells are not ringing.
Their clappers lie in a jar,
looking like metal people
who have lost their latched-on ways.

The jar sits on a counter
Close to the oven burners.
when the heat is turned on, sometimes
the clappers tink, yet trapped.

If you put your hand inside the glass
To try and remove one waiting,
you will yelp; your hand will burn --
so i suggest you leave them there.

The owner of this house, you see,
Likes the shape of bells.
he collects them for their shiny reflections:
brassy lights on the wall.

But, when this man went deaf as a child,
He could no longer hear his breath.
it frustrates him: the clappers below
wagging their silent tongues.

He would rather they not speak at all
Than feel a vibration in his hand.
the stem feeling too much alive
to be properly safe on a shelf.

I must admit, as strange as this man is,
And as many people who want him to die,
the clappers glow like distant planets
in their jar by the oven's heat.

I'm sure the manufacturers had no idea
What their small beads on chains could do.
and though i've never heard these bells' sounding tones,
i'm not sure i ever want to.