bsquirrel


Member Rara Avis
since 01-03-2000
Posts 8382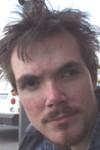 | | |
| --- | --- |
| 0 posted 05-26-2000 02:49 AM | |
---
This one's especially for all those who say my poems are a hearty meal. I thank you.

Mike

-a meal of words-
i. appetizer
A low bowl of broth, spoondipped,
Beads of drops of lightened color against soft metal.
Drowned leaves swimming, floating sailors (greenery)
On the lip of things.

ii. side
Rolls knifed gently, buttered yellow waft
Of smells -- like oil -- against the air.
Crumbs rest on the plate, waiting to be discovered, tested…
Lifted; chewed away.

iii. main
Finally, the heavy dish, steaming, is placed
And you go at it with positioned hands, silverware
fogging reflections. Meat. Drink. The music of
swallowing, throat moving, eyes watering at the spices,
Mouth hot, swallowing more; steam in belly. Seeds in teeth.
Softened center, the meat of words and their effects
hardening as they slide -- some -- into memory.

iv. afterdinner mint
The plates are removed,
A remainder of shiny foil wrapping some sweet surprise
sitting there, waiting to be opened. devoured.
Forgotten but appreciated.