bsquirrel


Member Rara Avis
since 01-03-2000
Posts 8382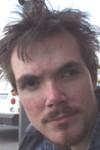 | | |
| --- | --- |
| 0 posted 05-25-2000 12:29 AM | |
---
i. awesome 3-d graphics
to give this proper balance,
the pen must press and tick.
i no longer feel sick.
something's wrong --
that went too quick.

ii. lightning-fast animation
his jagged bleached-out fantasy hurt many parts of me.
eyes went blind. ears went death.
hair fell out; thought there was nothing left.
leash and post. comatose.
heart swinging, burning, from a rope.

i swore i'd never find my way again.
but i did -- so i guess it all depends.

when your legs give out, will you crawl or bawl?
scab your independence or soften to tears?
both ways take wasting -- maybe years.
it's best to face yourself: your fears.

iii. outrageous giant robot fighting
here they come.
hello; pleased to meet your loss.
softly whispered song of what went wrong.
were the bells and chains too much?
(you had no balls for their ringing)

iv. the competition (envy v. praise)
"we are shaped by the ones who love us,
and the ones who refuse to love us."
-g.

run for the hills
and sit in the shade.
we will all be made/unmade.
sing while you can,
light up like a match.
before you know it;
down the hatch.
find someone special
and hope they find you.
give in your love;
give up, out and through.

(dropped the fortune cookie,
and went out the door.
practiced my knowledge
as i lay on the floor.
windowlight framing a frameless bed.
we might be alone, but we're far from dead)

v. the winner
the silence quiets us, but we can fight it.
bring out your strongest reasons to live; strangely, watch them die.
throw us all in cascading light; watch the bulbs sequentially burst.
write a new poem to share careful words; watch the ink fade to scratch.
but when you sing, cracked and broken though you are,
i'm sure you will stand unmatched.