bsquirrel


Member Rara Avis
since 01-03-2000
Posts 8382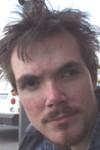 | | |
| --- | --- |
| 0 posted 05-24-2000 01:41 AM | |
---
Wow. Eight days.
How did it go by so fast?
On the freeway so much
I thought palms grew out of asphalt, not dirt.
I began to imagine every number had a road to match it.
If a place didn't end in "world" or "land," what was the point?

Eight days. Eight days.
How did eight days flit by like the hummingbird we saw at Universal?
Now all I have is two CDs -- pressed corporate plastic -- to approximate
the sounds of joy.

At It's a Small World, the black dolls in Spain were stuck in mid-kick, unmoving.
In Antarctica, one of the penguins had its head down, poignantly depressed, as the other bobbed up down idiotically, happily so.

Through Pirates, I remembered the past
and wished I had kept the photographs --
her smiling in red, a plastic skull in her hand, a fake parrot (a hat?) (a …?) on her shoulder.

I remember a sign: "Now this tale didn't happen just today, or yesterday; but a long, long time ago." This was over a fireplace with a kettle that had never seen fire. No soot.
As we waited in line there, the FastPass people got to get wet before us. We finally pushed out the emergency exit -- how convenient where we got pissed: right near the "Ev'rybody's Got a Laughin' Place" sign.

I miss some things, but not all. The click and weight of turnstiles, cold metal against legs.
My parents gone back to New Hampshire. I out here, gladly. But I will miss them.

And I will move on, with love.