bsquirrel


Member Rara Avis
since 01-03-2000
Posts 8382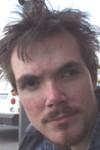 | | |
| --- | --- |
| 0 posted 05-22-2000 01:15 AM | |
---
I thought I'd poke my head out of the water long enough to share this thing. Enjoy.

Mike

-sunburned visage-
freestyle during vacation

I wanted to know about the man's sunburned visage.
How his nose didn't seem as much a part of his face
as a clump of flesh sculpted by a knife with a dull blade.
How his eyes seemed like two sparks of light,
colored marble.
His lips so chapped and cracked,
it looked like an extensive series of wrinkles forming a zipper of flesh.
And all his skin was red and leathery.

I wanted to know about his sunburned visage,
But the man was asleep on the beach.
The radio playing softly near his ear, on the blanket.

The ocean softly roaring sigh in the distance.
Rainbow rounded Malibu rocks
just above the beach.

And beyond that: large winding hills,
one with a backhoe against the side of the road,
set off by three orange cones.

I wanted to find out about the man's sunburned visage.
I wanted to compare how he looked now
with how he looked when he was born.
But something in his restful state
-- perhaps it was the way the sun played shadows over him --
made me feel compassion to not wake him.

And so instead I turned away,
looked out at the water,
saw the breakers, nodded,
and sat down to think.

hoping
that at least for a long while
I would not get a sunburned visage of my own.