Tara Simms
Senior Member
since 08-12-99
Posts 1285
Honea Path, SC USA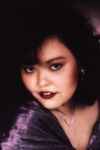 | | |
| --- | --- |
| 0 posted 05-19-2000 01:48 AM | |
---



Whereís Daddy?

How can you break his heart again?
How much hurt will you bestow?
I wish I could erase the pain
That heís too young to know.

A child shouldnít hurt this way,
Feel his dadís rejection.
If a motherís love is so strong,
Why canít I protect him?

If only you could see his eyes
When he sees that youíre not there
Maybe then youíd understand
How much he needs you to care.

He always scans the crowd
When the spotlight shines on him
He smiles when he sees me,
But the light in his eyes is dim.

Heís searching for his daddy,
Whose boy he used to be
Never finding your face,
His gaze then falls to me.

I hate you when I have to watch
A part of our son die
I canít be his everything
No matter how hard I try.

Although I love him with all my heart,
There are limits to what I can do.
Those times when he needs a fatherís love,
Thatís when he needs you.