Temptress
Moderator
Member Rara Avis
since 06-15-99
Posts 7276
Mobile, AL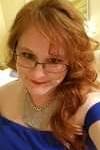 | | |
| --- | --- |
| 0 posted 05-19-2000 12:43 AM | |
---
Yeah...
Its me..
Just me...
Stalking in these vast hallways
Wondering where my passion went.
Once I thought I had an endless supply,
But when it starts to dilute
With everyday life,
It can feel as weak and watered
As a soda on a hot summer day,
Been left to melt in the heat,
Lost the fizzle
The spark,
The pop that once invigorated the senses
And the mind.
Overloaded with a bad attitude
And a train ride into the nowhere section of my mind,
I'm reeling from the blows backward
That I've been receiving lately for my diligence.
But that won't keep me down I hope,
Because you see, I was made strong,
And I've yet to find those boundaries.
You know the ones I mean right?
Those ones that are stretched so taut
That at any moment a fatal tear,
Could alter the course of your sensibilities
For a lifetime or maybe just a day or two?
Okay, so maybe a lifetime is only a day or two.
Figure that one out,
And get back to me.
I'll be here like always.
Meandering around
Searching for signs of life and poetry
In the numerous shadows of my being.
Thats where things hide, you know..
In those shadows.
Yeah...
The shadows make me work harder..
Challenge myself to search more deeply.
I think I'm happy now.
They always say a Pisces
Will either go with the flow,
Or swim against the current.
I guess I'm a go with the flow kind right now,
Daydreaming and hoping contentedly on the outside,
But maybe on the inside I'm against my currents.
Yeah..I'd say I am a little of both,
If that is at all possible.
A little bit of positive,
And a little bit of negative.
A good mixture I guess...
Makes me complicated,
Or maybe just stupid.
I know what you're saying right now...
You're thinking that I'm just searching within..
I think its called introspection.
I think this is just the run of the mill,
Babbling brook of thoughts kind of thing.
Maybe someone will get some meaning out of this.
LOL! Goodnight... <!signature-->

Nothing can deter a poet, for he is actuated by pure love. Who can predict his comings and goings? "Thoreau"