jwesley
Member Ascendant
since 04-30-2000
Posts 6413
Texas . . .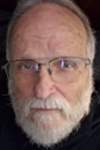 | | |
| --- | --- |
| 0 posted 05-17-2000 11:55 AM | |
---
The Kids


Small wonder
that things aren't the same anymore.
I mean,
with the kids doing their own thing now.
Mom and Dad are part of the past now.
They are the ancient soothsayers
whose knowledge is far surpassed
by the wiser,
smarter,
kids.
The kids,
follicles of growth.
Progeny gone wild.
I pity the old.

The old.
The you and me.
The parents that did their damnedest
to nurture and protect,
to imbue,
to prepare them for the reality of living.
We didn't fail.
We just ceased to grow.
At least,
that's what the kids think.
We stopped expanding.
Became stagnant.
And the kids left us stuck in the miasma of age,
while they grew with the exuberance,
the immortality of youth.

The kids.
Leonine novices,
stylish parvenu,
forgetting their roots.

W. James Beard, Jr.