Rosemary J. Gwaltney
Senior Member
since 08-26-99
Posts 1064
northern mountains, Idaho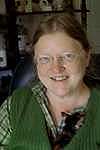 | | |
| --- | --- |
| 0 posted 05-17-2000 02:25 AM | |
---


Vivid Souvenirs of Sunrise
~ ~ ~
~ ~ ~
What a wild ride you've given;
what a merry chase we've known,
through the souvenirs of sunrise
where we ventured all alone.

What a splendid form you showed me
when you sashayed round in grace;
long and lean with sweets between,
and caring soft across your face.

What a tea-party you showed me
during time's remembered lore;
when of Alice I knew nothing,
and you led me through the door.

With such loving arms you took me;
with a tender touch not known,
you and I softly ascended
to a rapture all our own.

What a time - I'll not forget it,
when we sailed the thunder's might,
through the magic, through the lightning,
of our youth's enchanted night!






[This message has been edited by Rosemary J. Gwaltney (edited 05-17-2000).]