LoveBug


Moderator
Member Ascendant
since 01-08-2000
Posts 5015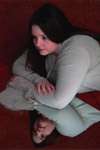 ---
Life is spinning
I'm too busy, you see
And I'm not here
When I should be

Forgive me...

I'll be here whenever I can
But until then, my friends
Know that I love you all
Although I can't always show it


I've been busy with school and my new moderator job (which I love), and I'm not here as much as I should be... I just want you all to know that I didn't forget you!

<!signature-->

"We are all in the gutter, but some of us are looking at the stars." -Oscar Wilde