Rosemary J. Gwaltney
Senior Member
since 08-26-99
Posts 1064
northern mountains, Idaho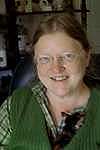 | | |
| --- | --- |
| 0 posted 05-12-2000 03:26 PM | |
---

Glory of the dawning
Passion in the pines
Gentle greys of sunrise
Spreading out in lines
~ ~ ~
Ice-tipped branches glowing
Midnight's gloom is lost
Steaming breath of winter
Rising from the frost
~ ~ ~
Birthing of a newborn sun
Whitewashing the sky
Chickadees with cheerful calls
Spread their wings to fly
~ ~ ~


Of Royalty



Ascending sun glints on the hoarfrost.
Diamond tiaras crowning bushes
That yesterday like naked paupers
Shivered across the winter desert.
~ ~ ~
Steaming breath of winter
Rises from limping ragged fences
Now precisely edged with frozen dew
Like old guards with finest fur collars.
~ ~ ~
~ ~ ~
For my 500th post - two poems I wrote a couple of winters ago, and still like.







[This message has been edited by Rosemary J. Gwaltney (edited 05-12-2000).]