jwesley
Member Ascendant
since 04-30-2000
Posts 6413
Texas . . .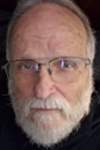 ---

Oblivion

On the frost coated window
I have drawn a square,
which represents my house,
a dot inside the square,
me,
sitting by the window.
I have drawn a line,
past the front of the house,
the street,
and little dots along that line,
the trees that line the street.
Another line is drawn next to the first
with a dot at the far end,
me,
walking down the sidewalk.
From the house
I watch myself walk,
taking slow,
careful steps,
so as not to step on the cracks.
I'm looking at the trees
wondering how they'll look
in a hundred years.
Round,
and round the window,
with my hand,
I'm wiping off the frost,
the circle getting smaller,
and smaller,
and smaller,
until…oblivion!
The house,
the street,
the trees,
the sidewalk,
me…
gone.

W. James Beard, Jr.