Skyfyre
Senior Member
since 08-15-99
Posts 1966
Sitting in Michael's Lap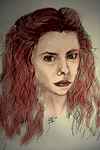 | | |
| --- | --- |
| 0 posted 05-10-2000 01:32 AM | |
---
We wandered,
Never in silence long, for you
Were full of
questions;
Or, one question, rather,
Asked too much --

And I, smiling and secret,
Equipped with only two answers:
truth,
And one other, less precarious,
That I chose to supply ...

Below us, the earth was yielding,
Fertile,
painted
In purple hue and gold that waved
Brightly, above breathing canvas,
Rolled in hills of gentle green ...

We wandered,
Between the fossils towered,
tumbled,
Tossed, as though their bulk was only
Sand and starlight.
Shadow-cold, sun-warmed,
stretched
Contemplative, between extremes,
In wonder, and wondering,
Dreaming, perhaps ...

The river raged below,
And yet it only seemed
A louder
whisper,
Lulling, inviting, seductive --

Now, in distance,
haunting --
For with eyes closed, I feel
The warmth of sun, and
Of you.






<!signature-->

 Full fathom five thy father lies,
Of his bones are coral made,
Those are pearls that were his eyes;
Nothing of him that doth fade
But doth suffer a sea-change
Into something rich and strange...

--William Shakespeare, from The Tempest



[This message has been edited by Skyfyre (edited 05-10-2000).]