Lost Dreamer
Member Elite
since 06-20-99
Posts 2589
Normal, Illinois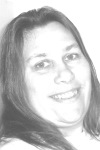 ---
I wrote this poem 2 years ago after I went shopping with a friend to try and help her decide on a dress she would wear for New Years Eve. It's kind of a silly poem.

The Tale Of Two Dresses

Hello, we would like
to introduce ourselves
I am shimmery teal
and I am glittering blue.
We are two dresses
that were sitting within view.
You spotted us
you tried us on
you liked us both
but only one of us was needed.
Your friend tried to help you decide
but you still had a hard time.

We both looked beautiful on you
then it happened you bought us both.
We were so happy
now were sad
we cannot stay
back to the store we go.
I guess we were to short
so we'll say goodbye
at least you tried
to have us become
a member of your wardrobe.