bsquirrel


Member Rara Avis
since 01-03-2000
Posts 8382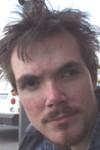 | | |
| --- | --- |
| 0 posted 05-06-2000 01:29 PM | |
---
Serenity, you'll understand this madness.

I actually laughed out loud composing this.

Later,

Mike

-to serenity-
The tears,
Oh, the damnable tears
Pouring out faster than all the heavens combined!

The years,
Oh, the years,
Flying by faster and leaving behind lemon rinds!

The fears,
Oh, the fears,
Boo! Boo! Ghosts flying in my face!

The cuspid lips of yonder serenity's powerful play,
Oh, like a donkey in broken melted heat it doth make me bray.
Oh, like slabs of olden clay fired hot by serenity's poison play!
Oh, how I pray for the quaking desist of sadness blooming in fields of grapes!

The apes! The apes! They trample my heart and all I have left is a knife.
A knife! A knife! Watch it carve bloody red blood-red blood smiles out of my extinguished life!

Yes! Now, with the duskless moon moving over my ashen existence,
With these ugly scars forever marking me in gloom's persistence,
As the wind and the swollen call of whales from the ocean reaches my
Forward insistence,

I feel freedom's cold grasp of lying back and giving it all up for one last question.

Oh, you hoary jewel of bespoken bloodletting copious capering findings!
You are the least of my worrisome worries, you pernspicucopious leech of love's untied bindings!
And so I bid you adieu, pronounce it a-dee-uh, not ado, you simple peasant!
My goodbye tides of leaving lost love leaning lonesome and leeward my final goodbye present!