bsquirrel


Member Rara Avis
since 01-03-2000
Posts 8382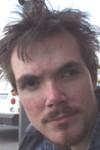 | | |
| --- | --- |
| 0 posted 05-06-2000 12:56 PM | |
---
When morning comes laced with birds,
The air conditioner murmuring high,
The silence can be felt against your skin
Like early morning sex
When you feel the most alone and afraid.

You can put it on a plate, cut it with a knife,
And eat its insides, as the knife and your fork
Echo their metallic chatter, quietly dissipate.

You can launch a tirade with music,
But the notes just sink into its stomach,
Sweeten the air, but don't purify it.

You can pray to the vision of an early morning god
In a simply lost version of salvation. After all,
You're tired, aren't you? Things don't make sense till later.

Even when phones from the other side of the wall ring,
The most you can do is huddle in bed, the sheet
Too light and easily kicked away to remind you of anything comforting.

I don't know what to say, what you could possibly do
To make that quiet go away.