TerryW
Senior Member
since 03-23-2000
Posts 787
Louisville, Mississippi, USA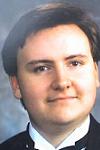 | | |
| --- | --- |
| 0 posted 04-18-2000 11:43 AM | |
---
Faith to Let Go

With every breath that passes my lips
My mind turns to you,
With every beat of my longing heart
Your name rings true.

You are so close I can feel your warmth,
And yet so far away,
I need you in my life even more
With every passing day.

I want to tell you how I feel
But the words won't come to me
I would fight for you with all I am
To hold on to this dream.

But I cannot hold you for myself alone
This much truth I know
It is your choice to be with me,
And I must have the faith to let go.



<!signature-->

 ~you reached inside, you touched my heart,
and I am all the better for it~
Terry A. Woodson, Jr.








[This message has been edited by TerryW (edited 04-19-2000).]