Dennis L. White
Senior Member
since 02-17-2000
Posts 1464
Michigan, U.S.A.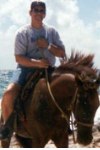 | | |
| --- | --- |
| 0 posted 08-15-2006 11:32 AM | |
---
Heat Wave Perils

A friend of mine keeps telling me how much he loves the sun,
But then he has his A.C. and a pool for Summer fun.
I am a heat wave victim! There's no coolness in my flat,
Itís very hot and humid here, I'm drowning in my sweat!


I love the sun and summer as I paddle in my pool,
If I get hot I go inside, my A.C. keeps me cool.
My friend she says "You're spoiled, Ďcause for me this sunís too hot,Ē
But I say, "Summer sunís supposed to be hot, is it not?"


Well, hot is fine for soup and coffee, not for Summer nights!
I camp out on my balcony and bear the vermin bites.
I could not stay in bed, I made the mattress soaking wet
and please donít tell me thatís the cheapest model water bed!


When getting ready for a swim thereís knocking on my door,
And enter fifteen relatives Iíve barely seen before.
I donít remember all their names, Iím feeling like a fool,
But not to worry, they donít mind and head straight for my pool.


I spent my time in jail last night and all because of you!
I couldnít help but thinking of your pool and barbeque.
I went down to a pond, but I forgot my bathing suit;
Iím charged of scaring fish to death by swimming in the nude!


I tell myself theyíre family, so be the nicest fellow,
But theyíve piled in my pristine pool and turned the water yellow,
Now, tired of my pool, my kitchen has come into focus
They slosh into my house, alike a horde of hungry locust!


Iíd say turn off your A.C., turn the heating up to high,
A cockroach in your fridge! A good persuasion for goodbye!
If none of this will do the trick, then hit the road and run,
While I sit out my time and you are having all the fun!


I thank you for your good advise, I know you do mean well,
But I have other exit plans for visitors from Hell.
I wish there was some way that I could spring you from that jail,
Iíd dip into my piggy bank and help you with your bail!


The cops said: ďItís too hot to watch you,Ē so they kicked me out.
Back to the heatís enough to make me want to scream and shout!
ďSome rain,Ē I pray, ďsome rain.Ē I pray, ďbefore I melt away,
Or, better yet, a thunderstorm. Preferably today!Ē


I send myself a telegram as they take a lengthy nap,
It is delivered promptly by a sweaty restless chap.
Oh look, it is from cousin Herman, I say rather loud,
Which gets the full attention of that sleepy, lazy crowd.


At last we have a storm! The waterís really pouring down.
And I? Iím dancing in the streets, behaving like a clown.
Although, again, Iím soaking wet, but how can I complain
That now itís very cold and wet! Iím drowning in the rain!


ďIt seems heís hit the Ďbig oneí in the Lotto just today,Ē
All at once they have to leave, in their car they drive away.
My poolís a mess, the foods all gone, worst summer I remember,
My friend youíre right, I must admit! Please hurry sweet September!

Note: This poem is a collaboration between Munda (from the Netherlands) and Dennis (from the U.S.) Although on seperate continents we both are seeking ways to cope with the record "Heat Wave".We wrote this in alternating quatrains starting with Munda.