Hardrock
Senior Member
since 02-14-2000
Posts 952
New Hampshire, USA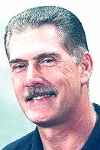 | | |
| --- | --- |
| 0 posted 12-24-2000 11:47 AM | |
---
I remember Christmas 2000,
It was a joyous time for me.
Even though it was in my lean year,
And we only had a cardboard tree.

It started life as a cardboard box,
Discarded and thrown away.
But I still remember my ladyís face,
When I dragged it home that day.

She smiled and said, "Itís perfect!"
Then she blessed me with her kiss.
And I felt the shame inside me,
For she deserved much more than this.

She cut out all the angles,
Till it started to look like a tree.
And she smiled the whole time she did it,
While singing Christmas carols to me.

We used old wrapping paper for color,
Made garland out of old twine.
Iíll never forget the love I saw,
Each time her eyes met mine.

When the "tree" was finished,
She said, "Come and sit with me,
And Iíll tell you how much I love you,
Under our cardboard Christmas tree".

"Next year thingsíll be better,
But it wonít matter if itís not.
I love you for being the man you are,
And not for what youíve got."

"Presents are unnecessary,
Thatís not what matters to me,
The only thing I want is your love,
And this cardboard Christmas tree."

"No matter where life my lead us,
As long as weíre never apart.
Then youíve given me the best Christmas present,
When you gave me the love in your heart."

We sat there alone in silence,
And I said thanks to God above
For sending me this woman, and a cardboard box,
That became our Christmas tree of love.