juliet_2u
Senior Member
since 07-23-2000
Posts 1132
North Carolina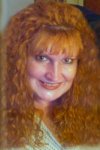 | | |
| --- | --- |
| 0 posted 08-09-2000 09:28 AM | |
---
Slowly she walked to her garden.
Tired legs carried her time worn body.
Her steps much smaller now,
Her cane close by her side.
Awkwardly she bent down.
This was no longer an easy task.
Years of hard work had taken its toil.
She sighed heavily,
As a withered shaking hand reached for its goal,
A single snow white rose.
Clumsily she clipped it,
One loose petal fell to the ground...
Her tired squinting eyes were twinkling.
This rose she would wear today.
She sensed a specialness ahead.
Her loving heart was full of pride,
As she reflected back on many happy years.
But for now a small rest was in order.
Upon her cane she leaned,
As she made it to her room.
Just a little nap she thought.
And quietly she closed her eyes.
But as she drifted off to sleep,
Her angel soon appeared.
"It is time now", he softly whispered.
Her spirit was free now.
No longer trapped in its shell.
She glowed with elation.
Smiling she took one final look around,
And they were gone.
Her trials were now over,
Her race was now run.