Seymour Tabin
Member Empyrean
since 07-07-99
Posts 32119
Tamarac Fla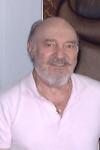 | | |
| --- | --- |
| 0 posted 04-16-2000 04:29 PM | |
---
The Gulls

They ride the air throughout the day.
The game is life, the game they play.
They scour the earth, search the sea.
For things undone, or about to be.

They cite a striking mien of flight,
With powerful wings and wicked sight.
A knave in space and dalliance,
In crave of finding sustenance.

Clever and crafty vis-a-vis,
Ponder the risk of what could be.
Measuring chances of success,
By strain and force and how much stress.

With their instincts on how to fly,
They are engineers of the sky.
The only issue, one of prime,
But I don't think, they think on time.

Their awesome grace and savoir-faire,
Shows nothing more then freedoms bare.