Temptress
Moderator
Member Rara Avis
since 06-15-99
Posts 7276
Mobile, AL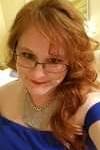 | | |
| --- | --- |
| 0 posted 04-13-2000 05:13 PM | |
---
Weather to yawn by
Drowsy green branches
Are laden with the weight
Of a thorough Mississippi rain,
And I am strectched
As best can be allowed
Between the seat and the dash
Of the 97 Ford Contour

Dazzling drops satiate my attentions
As I contemplate the distance
Between the next stop in the road
And my final destination

Restless and thoughtful
I pick up my pen.
A quick fix for passing time,
And exhaustion for my hidden muse.
Noticing the road signs I begin to write
Firstly the things that sneak into my mind
After reading each one

"Over The Hill"
Following the steamy mist
Spit out from the back
Of a well traveled 18 wheeler.
The driver keeps a steady speed
Waving a finger of acknowlegement
To the fast passing state trooper.

"Okatoma River Resort"
Contemplations of riverside roaming
Lazily lounging
Listening to Nature chatter
Like an insistent child.
Far better food for the senses
Than the beligerent songs of angst
Howling from the radio

"Bridge May Ice In Cold Weather"
Life is similar.
Storms blur our vision
And the coldness of harsh times
Make personalities icy.
Emotions are burdened
With a hardened attitude

"Wrong Way"
Only in breif moments
Are the correct directions revealed to us
We must grasp them quickly
Or crash head on
With our confrontational past mistakes.

"Speed Zone Ahead"
Frantic living
Fast then slow
All beating and driving
IN rhythm with our triumphs and failures

"Reduce Speed Ahead"
Slowly now
Enjoy life today
For time will not comply
With human rush hours.
<!signature-->

Nothing can deter a poet, for he is actuated by pure love. Who can predict his comings and goings? "Thoreau"