Seymour Tabin
Member Empyrean
since 07-07-99
Posts 32119
Tamarac Fla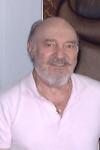 | | |
| --- | --- |
| 0 posted 04-10-2000 10:16 PM | |
---
Childrens fun

A bet was made among friends to see,
Who the quickest of us all could be.
To catch a geco was to fill the bill.
A prize to be had if there was no kill.

The lizard ran across the sand,
I snatched at it with deft of hand.
But when I opened my quick mit,
All I had was some sand and ****.

They laughed and screamed and carried on
And I turned away to keep my calm.
Another came up to take my place,
With jingling nerves and dead pan face.

He stalked the prey with shadow in mind,
We all came up a little behind.
He moved so fast he could not fail,
But all he got was the gecos tail.

We laughed and screamed with so much fun,
And the best of it was still to come.
A little girl with a pail in hand,
Covered the lizard with some sand.

She then reached down and scooped it up,
Drained the sand and put it in a cup.
She did it all with grace and style,
And then broke out with grin and smile.

We looked and stared and stood very still,
We were not sure weather to laugh or kill?
She was the champion of the bet and dare.
So we laughed and roared, what's fair is fair.

We picked her up and held her high,
She did not ever wince or cry.
We carried her to the candy store
And placed her in the middle of the floor.

You are our guest so eat your fill
And depend on us to pay the bill.
But if you sicken we make it clear,
We will like magic just disappear.