devina
Member Elite
since 10-28-1999
Posts 3189
Northern Cali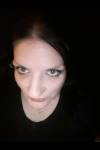 | | |
| --- | --- |
| 0 posted 04-05-2000 03:19 AM | |
---
"The Kingdom Of God is inside you, and all around you…"

Purity in form of the snow-white dove-
Innocence in eyes of a doubtless child,
Consideration in outstretched palm-
Wisdom in the unwavering mind…

"I'm not in a house made of wood nor stone…"

No building of grandness or rubble-
Will ever influence the heart of God.
Walls cannot create, nor dictate-
The pureness of your believing soul…

"Split a piece of wood, and I'll be there…"

That aching wound begging release-
On bending knee…believe in me.
An open heart will reprimand-
Of fallen strength, and fallen man…

"Lift a stone, and there you'll find me…"

Awaiting patiently, Timelessly-
Forgiveness…you shall see.
Come raw and open to me-
No longer shall you grieve…



<!signature-->

Open arms can be the most fragile in the world...