SorrowsMystress
Member
since 04-01-2000
Posts 179
I'm a wanderer, a nomad...I do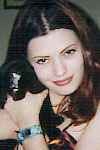 | | |
| --- | --- |
| 0 posted 04-03-2000 12:46 PM | |
---
You've

You've made me smile when I've had no reason
You've givin me hope when I've had nothing
You've brightened my life when I was in the dark

You've touched me in places that have gone neglected
You've seen through my facade when no one bothered to look
You've embraced me in times I didn't want to be held
You've helped me in ways you may never know

You've told me things I thought I'd never hear
You've looked past my sorrow and my unfortunate aspects
You've made me feel special when I thought no one cared

You've givin me gifts I've always wanted to recieve
You've brought me to life when I felt I were dead
You've givin me courage to fight my battles

But most of all, you've shown me love
And the advantages, the joy of it
And You've taught me how to appreciate
All that love has to give


*It's not often I write of happy things, especially lately. But someone has surprised me and givin me a reason and inspired me to write in a way I've always wanted to. Thank you , John. I love you truly and madly...