bsquirrel


Member Rara Avis
since 01-03-2000
Posts 8382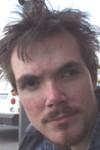 | | |
| --- | --- |
| 0 posted 03-31-2000 02:37 AM | |
---
Something I threw together. Right now, it sounds cool. I'm sure once I'm well-rested, I'll have second thoughts. Oh well.

Mike

-smooth-
Smooth. So smooth.
Taste the vowels caught between my teeth.
Oh. Ee. I am U.
Hair slicked back to keep it out of reach.
Smooth, so smooth.
Edges all worn away from time.
Jagged little scars that weren't worth the lines
I fed U to keep U from finding out.
Little lost night in a rotting rain shed,
Girl left with the smell of jasmine and her first blood.
Smooth, so smooth, the way the lights played in my hair,
The blue and red lights -- look at me! I'm revolving!
I'm spinning out of control.
Smooth, so smooth, the sides of this hole.
Trying to climb out, falling farther than I thought
I could.
U knew I would.
I never should.
I did, though.
And I felt so gloriously f______ sah-moooooooooooth
Through it all.