bsquirrel


Member Rara Avis
since 01-03-2000
Posts 8382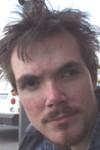 ---
Joy had us agog in an open gown
Dipping daringly to the derriere,
Mooning us all splendidly.

Love was approvingly Gothed-out
In sapphires cut like sparkling tears
Against an artful canvas of clingy black.

Anger was nobody's fool,
Bedecked blazingly in a crimson number
The color of emptied arteries.

Delusion fell prey once again
To a too stately ensemble, not very sexy;
Drugged. Looking rather her age.

Jealousy had eyes across the carpet popping
In a see-through gown accentuated roundly
With balled-up letters and old album photos.

But death, as always, was the centerpiece of the evening.
The very picture of quiet, significant grace.
Not many fans, but she held her own
In her swansong dress and ivorygrip smile.