bsquirrel


Member Rara Avis
since 01-03-2000
Posts 8382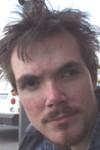 | | |
| --- | --- |
| 0 posted 03-27-2000 02:10 AM | |
---
Another day has departed,
Promises unkept and broken.
Another moment poolside reading
Where beyond the gates life lies breathing.

In its own grace, its own frantic pace,
I turn another page.

Chairs bent back with people lying,
The sun through trees, overhead sky.
One crow feeding in the branches,
Shadows changing the pool's face again.

I try again to get an answer
Or a reasonable reply.
Growing older and also younger,
Not letting wonder wither, but fly.

The phone's weight I know well
And the song I want to sing.
Turn back the pages a few years ago
When I was just another lonely being.

Now I'm just another lonely being in California --
So as you can see, some progress has been made.
The next step is to filter away the lonely
So I can live, finally, unafraid.