EagleScorpion
Senior Member
since 03-08-2000
Posts 1705
Here, Now, Forever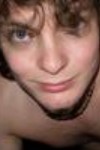 | | |
| --- | --- |
| 0 posted 03-18-2000 02:01 PM | |
---
Crying Water

A thousand souls left their earthly bodies this hour,
A majority of them have fallen forever,
A thousand teardrops fell into a pond of collective sadness,
The ripples never seem to end,
A thousand cries echo through a valley, enclosing around a forest of regret,
The cries reverberate in my head, over and over again,
A thousand trees grow ever still, and fall gradually one by one,
The seeker wind, the traitor rain, a treeís growth shaken and undone,
A thousand rosesí humble lives are ended,
To enhance a thousand bonds of love,
And less than a thousand post- rose souls seek another life,
A few to become lovers,
And kill more roses.
And place their bodies in a vase of teardrop water.
And watch the petals on the bodies they once had wither and fall,
As a majority of their bonds weaken and crack,
The water that failed to support their blind lives, drawn from myriad faucets,
Doubtlessly, someone, somewhere, shed tears into our water supply,
And sadness has a profound concentration,
Our water is contaminated with sadness.
As is everything, supported by that water,
Vagabond water, taken for granted,
Used and reused, some falls to the sewers,
While some is stimulated by the sunís holy light,
Rising into the sky, destined to one day fall again,
Everything we do is part of a chain reaction from a past action,
My life stems from a manís teardrop shed a thousand years ago.
People saw him crying,
They cried too.