bsquirrel


Member Rara Avis
since 01-03-2000
Posts 8382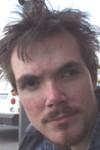 | | |
| --- | --- |
| 0 posted 03-18-2000 03:01 AM | |
---
Here's me trying to find my way back.
Pushing plump wistaria away, tripping on shadows.
This boy doesn't need to dress in black
To move people aside -- handle with extreme votile caution.

Here's to way too much living in just twenty-three years
Warping me beyond future's recognition.
To all the drinks I haven't drained,
All the girls I haven't kissed,
All the escapes I deny myself for reasons beyond comprehension.

Feel the tension? Is it a lesson in pain
And all the things that wriggled slowly away?
Is it a sunlit walk to train shadows to sing
As loudly as a voice shaking like a damaged wing?
Listen to footfalls echo like stones
Against some long dead king's skeletal throne.
And yet the wistaria grows. Plenty of creeping vines.

In all their flowering beauty, I know they're not mine.

Taste the wine I haven't lain, throatheavy, vomitous, in.
Crash the car I haven't even stepped furtively inside.
Maybe you'll find the beauty lurking in nature's shadowplays.
But I'm going to step outside for a while, not just be entropy's paper string.

(they're all the same, anyway:
all torn in just the right places
to keep plenty more being born,
torn, forlorn, worn, shorn.)

Time to learn.
I don't care to burn.