EagleScorpion
Senior Member
since 03-08-2000
Posts 1705
Here, Now, Forever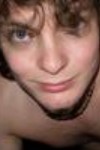 | | |
| --- | --- |
| 0 posted 03-13-2000 12:53 PM | |
---
The Nether Beings' Sandman

Elated by their success,
Sublime with the arrival of fruitful things,
Congretating in invisible circles,
Sequestering the tone of the bell that rings,
A long morning SongBird begins to sing,
The honey sweet sand in the corner of my eye,
I recall that dream, unable to die,
I remember I tried, I think I cried,
Away I flew, and fell, and ran from the chaser,
The sand I tasted, it tastes like honeydew,
Hark! I now record, explosions occured,
And torn people obscure,
yet indelibly imbued into the core of my heart,
I gaze at the recollection, I know where to start,
I thought I made it up, but began to realize,
All of it happened, in disproportional time,
I see their faces! They're everywhere!
I can hold them close, I can taste the air,
I could smell every strand of that one girl's hair,
Oh! That one girl! Crying upon me, trembling,
A haven of consolation I humbly beared,
My arms held her still, She held me until,
The sun rose over those distant hills,
I stare away at this past,
The faces stare back at me,
Fallen kings, unknown soldiers,
the greatest thieves!
Enlightenment serves the one who believes,
For last night I galloped the wood,
With my old friend Robin Hood!
And that one girl so mere, with ravaging tears,
I had to leave her, for her and I know,
The same happened to her, a thousand years ago.