bsquirrel


Member Rara Avis
since 01-03-2000
Posts 8382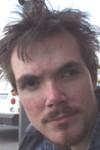 ---
His life has gotten so out of control
that he has taken to entering the shower
with his breakfast fork -- hot metal, taste of eggs --
still in his mouth.

When the temperature of the water -- hot or cold --
surprises him, he loses his metalware mouthlock.
One time the fork fell mostly down the open drain,
only the tines sticking out in soapwater greeting.
Another time it was the stem,
like a metal flower with its head lopped off.
Mostly, though, it spins in water skim.

He doesn't know what to make of these signs.
If in fact,
they're signs at all.

He recently bought a cheap lamp from an outlet store,
metal painted to look like wood.
The base became unglued while he was watching a spider from bed.
He wouldn't have noticed but for
the light shifting from the ceiling to the floor,
circle to triangle, spider gone.

His life has gotten so out of control,
he needs a radio to fall asleep at night.
He stays awake, singing through till morning,
mumbling the ones he doesn't know.

Eats breakfast, takes a shower,
and wonders, holding hot wet fork and towel,
whether he should drive out for a new lamp.