EagleScorpion
Senior Member
since 03-08-2000
Posts 1705
Here, Now, Forever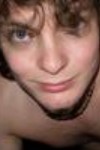 | | |
| --- | --- |
| 0 posted 03-12-2000 02:17 AM | |
---
The Best Days are Over

Between the teardrop photograph memories,
and the confusion of a world so new,
I find myself tranced in the bitter realization,
The best days have passed so soon.

Forgotten memories inside resurrected,
Rising from the ashes of a mind infected,
With the universal poison of my generation,
This is the god of my lamentation.

The nectar of life, 'tis not, you see,
I had a brand new soul before you killed me,
One that kissed life on it's supple lips,
Before it was stifled by your tyrant grip,

The best days are over, regrettably so,
I have sunken to an existence so morbidly low,
Reality is my emptyness,
Clouded with artificial happiness,

I grew up in a town I painfully love,
I was forsaken by my stars above,
After seven long years, from my home I was torn,
Then I arrived here, again I was born.

Nothing left of familiar faces,
Bereft of my daily graces,
Life became a joke,
There are not even traces,
Of the life I once knew,
When my heart was free.
The song of my life plays a cold note off key,

Now here I sit, reading to you,
Of my neglected existence, so sadly true,
I must now search for my very feelings,
and venture along,
And complete the slow notes,
of my life's lonely song,
Indeed, the best days are forever gone.
Hold me please,
hold this junk that was me.