RSEvans
Senior Member
since 10-23-1999
Posts 1187
Tulsa, OK, USA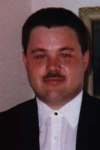 | | |
| --- | --- |
| 0 posted 03-11-2000 03:40 PM | |
---
++++this one was hard to write with Scooby Doo playing full blast in the background... so forgive me if it wanders, but I hope the message is not lost in the flurry++++
The mud splashes neath my feet,
And still onward I run,
Until my destiny I meet,
Until my day is done.
I cannot stop I must move on
The darkness is close behind
And then a thought intrudes upon
Stopping me in stride.
I look back along the road
To see so many there
Friends, family all alone
And the darkness in the air.
It seethes behind them, twists and turns
And threatens to draw them in.
And even though ahead I yearn,
I must go back for them.
I run straightforward t'ward the dark
Through footprints back I go,
Toward my loved ones I make my mark
I must save them I know.
I reach the first and they rise
Then they join me,
Together we rush, although not wise
The others must be free.
We reach the second and the third
The darkness drawing near
And yet the fourth and fifth remain
Frozen in their fear.
We dash for them, our feet in flight
And pull them from the soil
Then turn for home, the end in sight
The salvation from our toil.
We reach the light, the dark behind
Safety now is ours to share
We take deep breaths, we are of one mind
Together we are there.
<!signature-->

Knowlege tempered by wisdom...Wisdom tamed by youth.