Blondie
Member
since 08-06-99
Posts 307
Ohio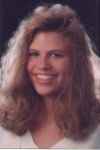 | | |
| --- | --- |
| 0 posted 03-11-2000 03:23 PM | |
---
*the rhyme scheme isn't to great but it was a lot of fun to write*

I jump into the car, and run into the store
We laugh as we search for the beloved TP
We grab 3 packs but I say, "we'll need lots more,"
"because there is eight of us, including me.

We drive to the lady's house I babysit for
We all run around with our rolls of cheap TP
I get the lawn while the others get the door
I use about 4 rolls on the giant oak tree.

We see someone coming, and a flicker of a light
But we still run with our beloved, white TP
If only we could afford to do this every night
Houses covered all the time, what fun it would be!

My roll runs out and I start to search for more
I look on the ground for some lost roll of TP
I only find little pieces that people had tore
I guess it's time to jump in my car and flee.

We always end up smiling the rest of the night
Because of these nights like this and our beloved TP
See, this brings us closer, us and this bad plight
For I can take my mask off for all of them to see.