bsquirrel


Member Rara Avis
since 01-03-2000
Posts 8382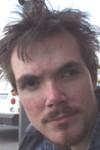 | | |
| --- | --- |
| 0 posted 03-11-2000 03:28 AM | |
---
-handful of bromides-
kleenex, comb & address book.
pictures of friends anne & alice.
with aching bicuspid,
pursed kissless lips,
you remember He made your smile,
too.

inside your car, you also learned
music can lie well.
notes cannot replace
a feeling of loss; cannot
embrace a too-quick smile.

in the glove compartment, a painted box:
plastic cube comes apart at center seam to hold things.

He painted in the swift severity of storm,
trying in His temper to mimic nature.
He made a great actor;
no artist.

a mess of images too sticker-like, transparent
when sunlight streams and destroys His rocks,
brushstrokes a tepid river inside supposed solidarity;
blunt, splattered stubs of shrubs.

He was no god. your kid knew that.
torn notepaper, smudges of crayon lollipops,
sad-face sun.
when it comes to holding in collapse,
you need look no further than the young.

the radio sloppy sonic gauze.
you feel ragged, striving
for ebullient mask
but finding popped bubble skims.

floating stone silence;
unfloating.
stoned silence.

notes.

brain/heart/eyes -- all blurred!
trifecta wagered away.

the photos in the cube: retouched.
chemicals didn't block out what needed hiding.
the illusion of security, your eyes tattooed
'round with hearts for Him.

hey, it's okay.
everyone needs their role models,
and handful of bromides to wash in.

(such a slow way to feel clean;
make a fist, it's gone)

you hear the path of an insect,
slow stinging fuzzy fragment
batting buzzing against inside glass.
honey? bumble? jacket?
you feel yellow.

sinking back, radio off.

if only you could lie unwoven
by that bright lit bug's threaded flight.
unaware that roving is trapped.

the Glass remains unseen,
but It can always be felt.