EagleScorpion
Senior Member
since 03-08-2000
Posts 1705
Here, Now, Forever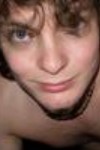 | | |
| --- | --- |
| 0 posted 03-10-2000 12:54 AM | |
---
This once proud country rots from within,
Our better nature angels weep,
Good and evil's balance treads a line so thin,
Spanning a bottomless fall so steep,
The tyrants were quelled, replaced quickly by,
This monarch democracy, this evil disguise,
Prying eyes of satellites plague these skies,
Watching the things we do that concoct our demise,
This drunken bald eagle, this parade of lies,
These junkie celebrities and their charade of cries,
This lost world of hope that false passion denies,
In this feud for survival, our enemy dies,
We make up but a fraction of this worlds population,
We grow fatter still as they die of starvation,
With our thirteen striped flag,
it's somehow our station,
To rule this world as if it were predestination,
Our advantage in this world weighs us down,
It shouldn't be ours to keep,
And it wasn't my fault to be born in this town,
In this American town, we are all merely sheep,
Through the perilous night,
By the ramparts we've watched,
And cowered behind, as our soldiers died,
Twas a brilliant sight! The bombs bursting in air,
The empty homes of the brave, scattered everywhere,
Stalin, McCarthy, both named Joe,
Members of mirrored worlds across the world we know,
Revolutionary, civil, it's all the same,
With ourselves to blame, war knows no names,
The reds and the whites,
The feds and the yanks,
Kerensky and Trotsky,
Lee and Grant,
It costs many lives to rule this rock,
That cost may rise, with this nuclear stock,
Our twilight's last gleaming may one day come,
The mushroom clouds will roar, spared will be none,
Like narcotic mushrooms,
among the heavily assorted,
With the face of that geezer Uncle Sam so contorted,
Guns out of control, Nixon, Vietcong,
Burning piles of flesh, and hits from the bong,
As you plainly see, I mocked this country's song,
For we say we are equal, but Oh! we're so wrong,
Gallantly screaming, this red white and blue song,
Forever believing this country wont last long,
"Equality" is nothing but a simple buzz word,
This country will fall hard for our dominace absurd,
For our universal sin, we will all dearly burn.