RSEvans
Senior Member
since 10-23-1999
Posts 1187
Tulsa, OK, USA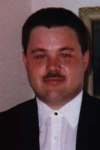 | | |
| --- | --- |
| 0 posted 03-09-2000 04:27 PM | |
---
Casting my soul afloat into the Sea of Life:
"What orders Captain? Ahead full or
come about, prepare to fire?"
I am immobile with no wind to fill my sails.
I have no star to guide by.
"Watch the rocks helmsman!"
"Guide clear of that reef!"
The water beneath my soul boils and seeths,
And threatens to draw me under,
Because of cracks and holes
Cause by many an unsuccessful meeting
With other souls.
"What orders, Captain? Should I head for port?"
"Not yet, Helmsman. Prepare to come about."
Although battered and scarred,
I will not set this ship to dock.
As though this may be the Last Encounter
My intuition tells me to abort this course.
But I will not yield,
They'll have to shoot me down,
For this soul will go out fighting,
And her captain will not abandon her.
"What orders Captain?"
"Fire at will!!!"

<!signature-->

Knowlege tempered by wisdom...Wisdom tamed by youth.