bsquirrel


Member Rara Avis
since 01-03-2000
Posts 8382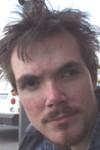 | | |
| --- | --- |
| 0 posted 03-08-2000 11:45 PM | |
---
-failings, leavings-
Music washes over this body
But doesn't cleanse it.
Too many old pores
Just breathing it in.
Someone I once respected
Just changed her name to her best friend's.
I'm assuming that means she'd rather hold
Someone else's mistakes inside
Until it warps her mind.
Or maybe she actually believes
It'd be great to be whom we adore.
Automatic dolls. Rising and falling on cue.
What should we do?

My failings are many and consistent:
I'm too tall, too young, too independent,
Too wanting in needs I can't fulfill.
Oh well.

I place my trust in quiet rust. Pursuing lust
And finding a broken crust coloring the dust.
Pursuing faith and finding chains to break my legs.
Pursuing love and scorching myself on dead coals.
Do you want to touch my burns?
Will it make you learn?
It hasn't helped me any.

It's so pathetic, it's almost funny.
Automatic minds. Automatic dummies.
I guess if I could only find a purpose that wasn't worthless.
Something more than wet genitals and
broken bread.
I hope, somewhere, a peace of mind exists.
And if not, could you please ram it into my head
So my thoughts won't be unclosed fists of dread?

I appreciate it in advance.
And if you won't do that, could you maybe
Lance all the unfinished lists of wishes away?
Fragmented and unknown memories, lost kisses, moments when you cannot pray,
Only bray in the clay despite the brightening tinge of day.

Or, maybe, maybe, please,
Maybe maybe please could you
Just go away?