EagleScorpion
Senior Member
since 03-08-2000
Posts 1705
Here, Now, Forever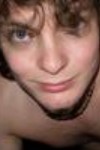 | | |
| --- | --- |
| 0 posted 03-08-2000 02:38 PM | |
---
The new day takes in it's first morning breath,
As the sun crests the edge of this world,
The trees stretch their arms and yawn with the wind,
As the morning glory's petals unfurl,
The wandering wind whispers in my ear,
I breeze through this birth of new light,
Speaking softly to me, "Know you now whats near?"
"Before tommorow drives away this night?"
The tallgrass conducts it's symphony,
I answer in silence profound,
How I long to bathe in your sympathy,
But I fear I have already drowned,
Now I sit at the peak of these valley walls,
Above the crystal waterfalls,
Strain from the pain of this life so stained,
Washes away the wonder of a will retained,
Leaving no care for all I've ever gained,
Or loved; beaten down by my own remains,

This new soul takes in it's first morning breath,
Borne upon these valley cliffs,
Inside, the answer exists only not,
The clouds in the sky once again shift,
"I know not what is to come" I say,
"As I know only this"
"My destiny swells from my own creation,"
"What I long for will not be unkissed,"
An eagle now soars these boundless skies,
While the faithful wind answers me,
"Live not your life in that of disguise,"
"And manipulative tyranny,"
"Seek this life within yourself,"
"For I know not what is to come,"
"I inquire, merely, of your inner wealth,"
"For you are the chosen one."
The vagabond air now speaks no more,
Cutains of silence blanket infinite shores,
I know, yet know not, whats now in store,
Clandestine before, and forevermore,
For I am the eagle that soars.