bsquirrel


Member Rara Avis
since 01-03-2000
Posts 8382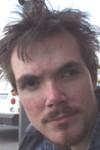 | | |
| --- | --- |
| 0 posted 03-07-2000 01:56 AM | |
---
I enjoyed this, anyway. Venting on a truly insane person at work who twists things around to fit her version of reality. Don't worry, I'm never going to show it to her. But man, what a good way to release excess tension from that morale sucker.

Mike

-whose insane-
freestyle

Who's insane here?
I asked you a question. It was loud. My lips were moving. The globe was spinning. The book pages were turning.
Who is insane here?

Because you know, I thought I found
A base where I could start a friendship,
And instead you're too busy talking:
Wondering why
I wasn't talking about you.
You know, you remind me a lot of the girl I broke up with.
The one who needed to hear, every single day, that she was beautiful.
And I will admit, I used to think the same of myself.
But then I realized beauty was just what other people thought of you.

And I'll tell you something else --
Stop spinning the globe and listen to me --
You think you can just spin your problems away, find a new place to go?
Well, the phone rings and I don't even answer it anymore.
There's notices of eviction on my door, but that's all right --
I know where the keymakers, where they live. Who's insane here?

I pace around
Like a cat in a zoo.
You know, taken out of its natural surroundings and forced to live under cage and bars,
And people staring in, gawking?
Who's insane here?

You for looking?
Me for roaring back?
The world for caring?
Or not.

I wondered yesterday
If we actually know what we look like.
Whose to say that our reflection
Is really our reflection;
Everything is in reverse, isn't it?
Except for motion.
Oh, that's the same anywhere.

Your eyes aren't yours.
Your nose isn't yours.
Your face isn't yours.
What can you believe if that's true?

Am I insane for thinking that thought?
Are you insane for letting your mind rot?
Stop spinning the globe and listen to me.

Do you think I'm beautiful?