X Angel
Senior Member
since 11-07-1999
Posts 1592
Oregon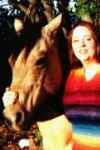 | | |
| --- | --- |
| 0 posted 03-06-2000 06:55 PM | |
---



Part I. Mermaid Song


she cries into the night
a mournful hollow melody
filling the air with echoes
of a once joyful heart

she sings an unknown language
as she combs her hair of grass
tears fall from her eyes in salt drops
mingling with the ocean's churning froth

once she was a young beauty
graced with life and laughter
now she can only sing a siren song
a sad tune, destined to lure unwary sailors
to their doom, as they drown in her careless smile

her heart was broken
in a selfish gesture
by a lover, so untrue
now her unmerciful soul
will lead no-one home

her death in life so real
she lives not, yet she breathes
called to the sea, to drown her tears
she marks not each day, tho each passes so quickly
she sought the peace of the waves
now it's hers tho not in death
but life again, sheathed in a scaley skin

no respite for travel weary sailor
can be found upon her shores
for she has no heart left
death inside her, reigns strong and free

she slips among the waves and sea creatures
in silent recognition
tho none speak of her
to speak her name would be death
she acknowledges no creature in her sadness
only the sea weary sailors
lulling them to their eternal sleep
as they drown in her melodic voice

each rise of the sun
day so new, she stares into the blue horizon
as she sits upon weathered stone
amidst the crashing waves and sandy beach
screaming gulls fly overhead
as undrying tears fall into a river of grief
flowing so fast and free
to spread into the sea

in a song of mournful sorrow she waits for the someone
the one she has seen in her dreams
the one who will show her true love again
and free her from this life of death

Part II. Of Death So Unaware


shimmering and be-scaled
her lithe form moves like a dancer
beneath the waves
among the sea creatures

in her heart a mournful song
of love lost, of love scorned
on her lips a smile of resignation
to this life she chose
this life of death

waves of hair flicker down her form
as she glides with ease through the sea
her hair tangling like sea weed
catching and falling from her
to reveal the soft white curves
'neath the cascadian cloak
of flame coloured tresses

there, among the things she loved
and the life that shackles her
she saw him
'neath the cry of the wind
and the scream of the gull
her eyes first touched him

she began to sing her song
the ageless refrain of Loreli
destined to make him unwary
to lull his senses til he slept
in her arms like a babe
so she can dive with him below the surface
to steal his life away
like hers was stolen so long ago

she sang, yet her eyes partook of his strength
his manly form and his earthly beauty
and she felt a stirring inside her
a shiver in her soul
as something familiar and so unknown
made it's presence known in her heart

II.
he saw her there
sunning upon a rock
stroking her hair in time with the tides
writhing her body in pleasure under
the midday sun
his heart stopped, his pulse raced
and he called out to her
in a voice of silk that caressed her senses
like the ocean her skin on a moonlit night

opening her eyes, she pretended shock
she feigned fear and alarm
as he called to her "I mean no harm!"
hesitantly, shy now, she slips through the waters
to see her prey up close
as she glides up 'neath his smile
her eyes meet his, and lock
frozen for a moment
'til she forgets her destiny
and she forgets his,
to die

in her heart, again, stirs something so rare
a flower blooms there, fresh and new
yet, even still she remembers her quest
and smiles up to him, holding out her hand
in a gesture of trust, of friendship
he places his in hers, eyes never leaving her
beauty
her radiant glory
his heart lost in one moment
to a wild creature of the sea
to the myth of every sailor
yet he knows not his fate
nor cares
only this moment in time is real
it matters not what forever holds
his only want, to possess her
his only need
to drown in the depths of her desire

her only desire, to drown him in the depths
of the cool blue ocean that is her home
yet, as she takes his hand and pulls him to his grave
her heart twinges a remorseful beat
as she wonders if he was the One who could save her
if he was her One true love

as she drew him down
into his doom
into her death
his eyes wide in delight
his fate yet unknown to him
his hand so trustingly in hers
as he pointed to a school of colourful fish
in childlike wonderment

when she stopped
abrupt
pulled him to her, hair swirling around them
in a cloud
her body moulded to his
and delved into his eyes
his heart
his very soul
and she saw there the truth
and she knew love
rare, bittersweet and bitingly real

as his life slipped from him
she bent her mouth to his
to give him a moment more under her oceans
his senses stirred as she kissed him there
'neath the sea they both love
as she gave him life, for a moment
and understanding

she spoke of eons of time
of sailors she'd doomed
of her sin
of her unworth
he judged her not
and spoke to her of his unworth
yet, together finding peace and happiness
neither had felt before

for five blissful days
they loved, and cherished each minute together
knowing soon he would have to go above her ocean
for mermaid's breath lasts but a few days time

in anxious tears and sorrow they parted
vowing to wait, to never give up
each night he comes to her
fearing the sailor's harpoon
each night she comes fearing another earth woman's call
yet even still, no matter what the storm
they persevere, night after night

each day Loreli makes a wish upon a mermaid's tear
to learn to breathe the air her love breathes
to learn to walk the earth her love walks


Part III. The Path

Each night he walks that path
lonely and tired
staggering over boulders
fighting for balance
as wild winds scream their banshee wail
scream mockingly
laugh gleefully
threaten him
with a tug towards oblivion
then slam his battered shell
hard
always so hard
against the jagged cliff.

Smiling
remembering those five days
and four short nights
those special days and nights
when he swam with her
he rises
head raised in defiance
and howls
sending out his soul
to battle the winds of circumstance.

Bloodied fists clenched
he steps out
once more
always onwards
always one step closer
closer to his love
his mermaid princess.

Sand cushions weary feet now
winds forgotten
wounds healed
as he nears the sea
and spies her
radiant in her beauty
swimming strongly
fighting her own battle
and winning
surging past the currents
that try to sweep them apart.

Eyes meet
through ocean's rippling barrier
and they smile
and speak
words of pain
of joy
of love.

Hearts and souls meld
joined forever
resting
for awhile
on tranquilities shore
til daylight comes
and they must part
each to their world
but each stronger
knowing
beyond doubt
they are never alone.

Each night he walks that path
even still
as he waits
for that glorious day
the day she learns to breathe.


Author's Note: The third section of this poem is not my own, but an add-on by a friend, that seemed totally fitting.