bsquirrel


Member Rara Avis
since 01-03-2000
Posts 8382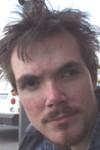 | | |
| --- | --- |
| 0 posted 03-05-2000 03:00 PM | |
---
I'm posting this for the heck of it.

It's an older poem -- written about five months ago. To me, that's an eternity, because I average about five poems a week, so this is me going through sheafs of paper to find it. Anyway, I wrote this poem for myself, but at my last reading, everyone else seemed to like it, too. It's to remind me why I do this to begin with. Not everything has to be darkly tinged.

Mike

-poems on the rack-
This poem has been written for you.
It doesn't matter what anyone else thinks of it
Because it's all yours, like a secret lollipop taste
When you're waiting hot in line at Disneyland,
Like a touch from a leafy overhang as you walk hurriedly by.
Something to give you pleasure in a slowly charted map
Of what you want to think about, what you want to be,
The secret-lined chambers of your mind's heart.

It's not as universal as some, but much more intimate
And idiosyncratic. You understand its rhythms and its charm
Where others have turned away from it.
And that's fine, because this poem is only for you.

It can be opened like a box within a box,
Closed back up with the turn of a key or page --
And only you know how to make the contents reveal themselves,
How to mix them around like potpourri on a sunny walk,
To let the pieced fragments wish whisking in the breeze
And to discover more underneath than you thought was there.

You don't have to worry where this poem falls in the canon
Of western literature,
Or what editors and critics renowned around the world think of it.
This is your poem,
And it has been written for no one else but you.